| | |
| --- | --- |
| THE HANDSTAND | FEBRUARY-MARCH2010 |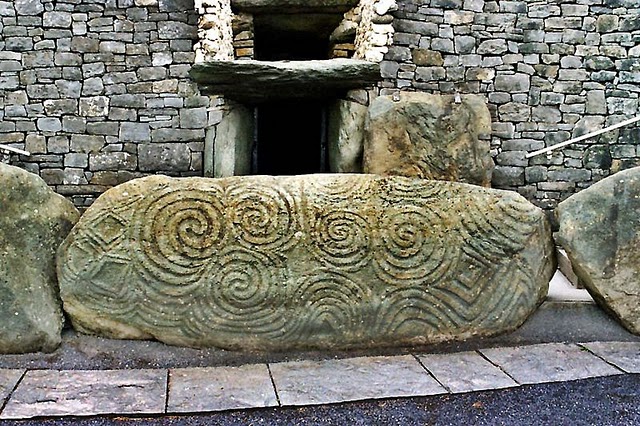 The modern Irish estimate The Newgrange Structure to be between 5,000 and 5,200 years old. The mound is not more than 10,000 years old, because all of the British Iles were covered with a glacier before that. As the glacier melted stone age man moved northward. Unlike modern day man, they looked forward to global warming. But that was the period where global warming was slowing down considerably.

UPDATE:
16th February 2010
SAVE NEWGRANGE; PRESS RELEASE

'Complaint to European Commission Lodged Over Slane Bypass Public Consultation'

Save Newgrange has lodged a formal complaint with the European Commission, over the flawed public consultation process for the N2 Slane bypass, which is proposed to be built 500m from Bru na Boinne World Heritage Site.

The complaint is also being made on behalf of stakeholders, NGOs, and concerned citizens inside and outside the jurisdiction, in Northern Ireland and abroad,and in particular the Irish Diaspora.

The complaint asks the Commission to take interim measures to ensure that the time period for public consultation is extended, in the event that An Bord Pleanala declines the grant the appeal lodged by Save Newgrange today, asking for a 90-day time extension.

The complaint alleges that the process breaches the Environmental Impact Assessment Directive, (Directive 85/337/EEC, as amended by Directives 97/11/EC and 'The Public Participation Directive' 2003/35/EC), as implemented by the Planning and Development Act 2000, which governs the procedures for public participation in environmental decision-making, with regards to major infrastructural projects, such as the N2 Slane bypass.

The primary grounds for requesting the extension of time include claims that:
- The Public Notice was inadequate
- The time period was unreasonably short
- Fees for the EIS and submissions to An Bord Pleanala are a bar to participation
- The EIS was not freely and adequately available, as it easily could have been
- The notice for compulsory purchase of land, which accompanied the Public Notice of EIS publication, negates public participation and pre-empts the decision of An Bord Pleanala.
- This decision-making process clashes with a separate public consultation currently under way to revise the Management Plan for Brú na Bóinne.
- Approval should be received from Unesco, before the development proceeds.

Spokesperson Vincent Salafia, a lecturer in environmental legislation said:

"The public consultation a decision as big as this needs to be wide-ranging, considering the fact that world heritage is shared by humanity, and EU law requires that.

"It is critical that organisations like the World Archaeological Congress, the World Monuments Fund, the Smithsonian and other cultural bodies, both Irish and international, have a say on this before, rather than after, planning permission is granted; as was the sad case with the M3 at Tara.

"If An Bord Pleanala does not grant the public concerned an extension of time for this, we hope the EU will intervene and order a new EIA to be performed.

"Taking a little more time to do this right, could prevent long delays in the future, due to new discoveries and legal challenges.

ENDS

Contact: Vincent Salafia 087-132-3365

http://www.savenewgrange.org

10 February 2010
PRESS RELEASE

TARAWATCH

Objections made to NRA tolling bye-laws for M3 motorway

TaraWatch has today made its objections to the National Roads Authority (NRA), in response to the NRA's call for public submissions for the Draft Bye-laws for M3 motorway Tolling. The deadline for submissions is today.

The NRA has claimed that the 522 million euro cost to the taxpayer for the M3 will repaid by VAT on tolls. Our consultant engineer shows that between 300 to 400 million euros of the 522 million euro cost will not be repaid during the 45 year concession period by the VAT on the tolls.

TaraWatch is objecting to the 'shadow tolling clause' in the Public Private Partnership Contract with Eurolink. The clause provides for direct payments to be made to Eurolink, from the Department of Finance, in the event that traffic on the M3 falls below a certain level. Since the minimum traffic levels are kept secret, no one knows the size of the sword held over the neck of the taxpayers.

The minimum traffic clause was not mentioned by the NRA in advance of the 2007 NRA Toll Hearing, held into objections made to the Draft M3 Tolling scheme, published in 2002. The Hearing was held just weeks before the contract was signed, but it was kept secret that the Government had already gotten pre-approval for the shadow tolling clause in the M3 contract from the European Commission in 2006, stating that the clause would not violate EU competition law, as improper State Aid.

TaraWatch claims that traffic levels on the M3 will never meet NRA predictions of 22,000 cars a day, and that the shadow tolling clause amounts to an unconscionable burden on the taxpayer. TaraWatch also claim that the process that led to its introduction, and therefore the tolling bye-laws themselves, breach of Irish and EU law.

An economic analysis of the M3, prepared by consultant engineer Rod Aldrich, P.E., in which he estimates that between 300 to 400 million euros of the 522 million euro cost will not be repaid during the 45 year concession period by the VAT on the tolls. That means the government cost of the road will be unpaid for more decades, while Eurolink will be making their profit on the road.

Rod Aldrich said:

"The shadow tolls mean the exact cost of the road is unknown and future generations of tax payers have been saddled with the immense costs just at a time when the funds could be used on so many other economic pressures.

"The Oireachtas was not fully informed of how this cost was open ended, nor that the VAT was needed to pay back the government costs. Our analysis shows the VAT will not come even close to paying back the costs in 45 years even if the traffic achieves the rosy predictions of the NRA.

"Even under the most optimistic NRA traffic projections, the VAT will fail to repay the government contribution during the 45 year concession period by approximately 303.98 Million euros."

"With lower but realistically possible traffic projections and with the refund of 90 percent of the VAT to commercial users, the failure to pay back the government costs will swell to 413.84 million euros.

ENDS

Contact: Vincent Salafia 087-132-3365
Rod Aldrich (US) 001-518-456-4900

Friday 5 February 2010
SAVE NEWGRANGE

PRESS RELEASE -

'NRA and Meath CoCo Accused of Rigging Planning Process for Slane Bypass'

The Save Newgrange campaign is offering the full Environmental Impact Statement (EIS), concerning the 'preferred route' of the Slane Bypass, to the public for free download, because the NRA and Meath county Council have restricted access to it. The deadline for public submissions to An Bord Pleanala is February 17.

The EIS shows the Slane bypass is only 500 metres from the Bru na Boinne World Heritage Site, commonly referred to as Newgrange.

The National Roads Authority (NRA) and Meath County Council (MCC) published the EIS in December 2009, right before Christmas, but only placed a short non-technical summary online. The full EIS can only be purchased from the NRA Design Office in Navan at a cost of 80 euro per printed version, and 10 euro for the CD version.

A complaint is being made to the European Commission and An Bord Pleanala on the failure of the NRA and MCC to make the full EIS freely available, breaching the public's rights of access to information and to participate in the decision-making process. This breaches the AARHUS Convention, which has been incorporated into EU law. However, Ireland remains the only EU member state not to incorporate it into domestic law.

Spokesperson Vincent Salafia, a university lecturer in Environmental Legislation, said:

"The NRA and Meath County Council have rigged the planning process and are intentionally restricting public access to information.

"There is no reason in the world why the authorities couldn't do what we are doing, and make the entire EIS available for free download.

"Huge sums of money paid for the development of the EIS, and will be spent on the bypass. It is outrageous that it is not freely available.

"The deadline for public submissions should be extended, in order to give an opportunity to review the plan and participate in the decision-making process.

MORE INFORMATION:

Full EIS download available at:
http://www.savenewgrange.org

Summary of EIS at Meath County Council:
http://www.meath.ie/LocalAuthorities/Roads/MajorRoadsProjects/N2SlaneBypass/SlaneBypassPublications/

EU law on AARHUS Convention
http://ec.europa.eu/environment/aarhus/
*************************************************************************************


NEW BYPASS TO BE BUILT IN VICINITY NEWGRANGE
Hi,
I wanted to draw your attention to this important petition
"Save Newgrange Petition "
http://www.ipetitions.com/petition/savenewgrange/

I'd like to encourage you to add your signature, too. It's free and takes just a few seconds of your time.
Thanks! Jocelyn Braddell
------------------------------
Slane bypass would run close to NewgrangeThursday, 21 January 2010 22:13
The National Roads Authority has given details of plans for the new Slane bypass, which would be built 500m from the World Heritage Site at Newgrange.While the plan has been welcomed locally, it is expected that there will be controversy.
The bridge and the road through the village of Slane, Co Meath, is one of the most dangerous stretches of roads in Ireland. Over 20 people have been killed in accidents and locals have long campaigned for a bypass around the village.The NRA is proposing to build the route down river of the present bridge and to the east of the village.
The proposed bypass will be 500m away from the buffer-zone around the World Heritage Site at Brú na Bóinne, which comprises the ancient megalithic tombs at Newgrange, Knowth and Dowth.It will also impact on the museum dedicated to Ireland's most famous World War I poet, Francis Ledwidge, who came from Slane.The Environmental Impact Statement for the project acknowledges that 44 archaeological sites will be within 500m of the roadway and that the potential to uncover much more during work is high.While there will be a visual impact from the river, the Environmental Impact Statement says there will be negligible impact on the site.
SEAN WALL'S PROPAGANDA IN DROGHEDA iNdependent
Road 500m from buffer zone --not Newgrange
advertisement in text : Waterford Bypass Use Easytrip for tolls and parking Apply on-line for your toll tag. If they toll the Newgrange bypass ............................
Wednesday January 27 2010
CONTROVERSY surrounding the proximity of the proposed route of the Slane bypass to Newgrange overshadowered what should have been joyous news for the residents of the beleagured village after the National Roads Authority released an environment impact study for the route.However John Ryle, of the Slane Bridge Action Group moved swiftly to contradict reports that the bypass would run just 500 metres from the edge of the ancient Newgrange complex.'Around Newgrange we have what is called a buffer zone and the new bridge for the bypass will be 500 metres outside that buffer zone, not 500 metres from Newgrange,' Mr Ryle said.'It will not be seen from Newgrange and it will not be seen from Dowth, it might be seen from Knowth but it will be over 1km away.'
Planning permission for the 3.5km dual carriageway has been sought from An Bord Pleanala, and the NRA said the proposed route would have the 'least impact' on the archaeology and heritage of the area.(Exactly what impact? JB,editor)
The bypass will start north of the Grasslands premises on the Collon road and will end the Slane side of McGrudders Cross on the Dublin Road. Included in the scheme is a new bridge over the River Boyne, which will be around 200 metres long.Mr Ryle said that Slane Bridge Action Group will be encouraging all organisations and associations in the area to make submissions to An Board Pleanala in support of the proposed route.'We want to show that the full weight of the community is behind this bypass. This is a great opportunity for the people of Slane to reclaim their village as a decent place to live in.'We want to put an end to any more deaths or carnage on the Mill Hill. Most accidents, the fatal ones and bad injuries resulted from runaway trucks and all the traffic calming measures in the world will not control a runaway truck.'The people of Slane are living in dread every time they come down the street, either walking or in a car.'As well as 22 deaths there have also been numerous non fatal accidents over the years with the residences of the picturesque village suffering greatly because of the sheer volume of traffic that goes through Slane every day.In addition to normal traffic 1,600 heavy goods vehicles pass through the village daily.'Look at all the businesses that have closed down in the village, no one wants to go to Slane anymore,' Mr Ryle continued. 'The old people are afraid to cross the road and children have to be accompanied by adults up to the school.'The people of Slane are entitled to live in an environment with modern standards and not be living in fear of something
happening to them. We have got to get our village back, it has been held hostage by traffic for years.'- Sean WALL
MEANWHILE the people of slane have had a preliminary disturbance:
CONSERVATION groups and residents in Slane are furious at a proposal which they fear will lead to construction of housing units in the village centre on land containing protected structures.

They have called for support to "prevent the destruction of Slane".Their concerns arise from proposals in a variation of the new Meath County Council Development Plan, 2007-13. Known as the 'order of priority', the controversial proposal is a response to Dept of the Environment anxieties about the huge amount of land in Meath zoned for residential use although not yet built upon.It offers a blueprint for the order in which land in 30 towns and villages around Meath, including Slane, could be released for planning applications up to 2013. '

The site's at issue in Slane are in the gardens of the former parochial house and on ground between this historic structure and the local church, as well as within the Cillrian and Mount Charles Lodge sites.

The Boyne Valley Trust (BVT), Slane Combined Residents Association (SCRA) and the Meath branch of An Taisce already have voiced grave concerns.

The BVT is hosting a public meeting in the ConyngHam Arms Hotel, Slane, next Tuesday, 27th November, at 8.30pm and has urged the public to attend to provide support "to prevent the destruction of Slane".The new county development plan already has identified the need for 65 extra residential units in the village up to 2013, according to the SCRA. It is the naming of the location for the units, 30 in the grounds of Cillrian and Mount Charles Lodge and 35 in the gardens of the old parochial house and dwellings between this and the church, that has deeply perturbed and angered the residents and other interests in Slane.According to the SCRA, these sites largely comprise protected structures, are within the core of the Slane village Architectural Conservation Area (ACA) and were considered "unsuitable for significant development within the last 12 months".In addition, the number of houses seem out of scale with Slane's character and quality, would damage "irretrievably" the unique heritage quality of the village's designed integration of woodland, trees and buildings, they say. The group adds that the proposal overlooks a large land bank zoned for residential development in the 2001-2007 plan and does not take account of "serious infrastructural deficiencies" in the area, in terms of water and sewerage.The BVT is "outraged", saying that it has complained to the Minister for the Environment, Heritage and Local Government, John Gormley. It understands that no Strategic Environmental Assessment (SEA) has been carried out.

A Meath An Taisce spokesperson was concerned on broadly similar grounds.

Meath County Council said that the proposed variation was subject to much consultation with members at area level before the full council resolved to put it on public display at the October meeting. The area council deliberations took place in private.
A county council statement added that the order of priority effectively identified available lands in each settlement which were "considered most suitable for release". This meant that priority would be given for the quantum of units available.
However, it added: "It should be noted that the identification of lands in phase one does not assume the lands will/can be developed upon immediately, as each planning application received by the planning authority for units on these lands will be assessed on its own merits and will be dependent upon the availability of necessary infrastructure. This is clearly set out in the supporting document for the Order of Priority currently on display". Regarding the SEA issue, the council said the law required that a variation be screened to ascertain if a full SEA was needed. The screening report prepared concluded that it was not required as the proposed variation sought to "phase the release of existing residentially zoned lands and as such will have a neutral impact on the wider environmental resources". The report was submitted to the prescribed bodies.
The order of priority variation (written text including the screening report and the maps) for all the 30 locations involved is available for inspection during normal working hours at the council's main offices, including the new location of the Meath planning department at Abbey Mall, Abbey Road, Navan.

Meath Chronicle

www.buckplanning.ie Posted by Brendan Buck